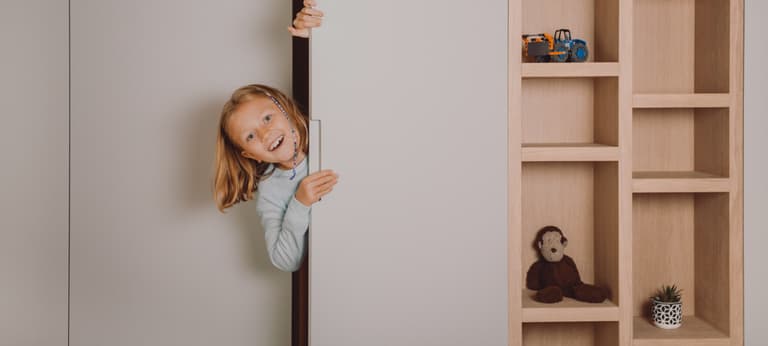 Furniture Collection
Take Berchen beyond the kitchen with our range of stylish wardrobes, sideboards and vanity units.
Bespoke wardrobes
Take care of what you wear with a bespoke wardrobe that perfectly fits your happy space.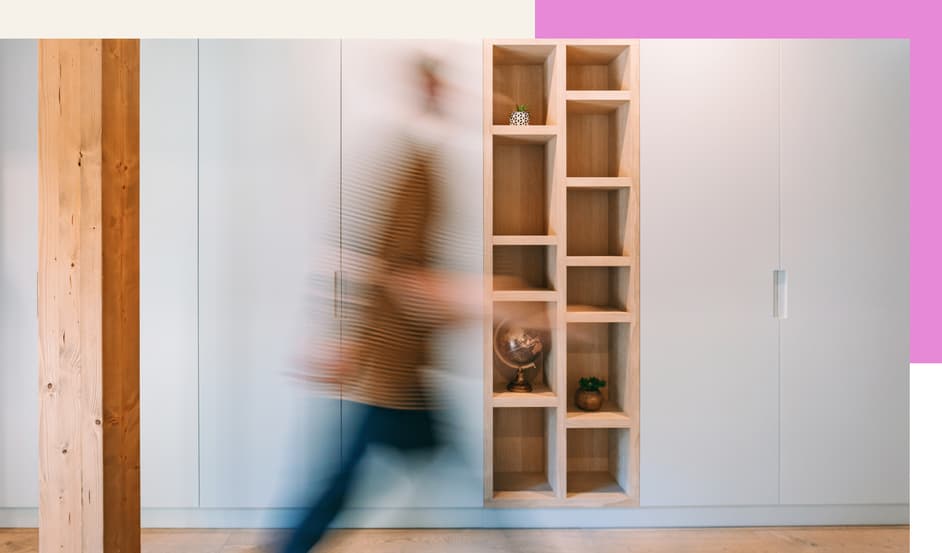 Shelves
Wood veneered shelves available in a wide range of colours and finishes.
Handles
Milled door handles available in a range of shapes and sizes.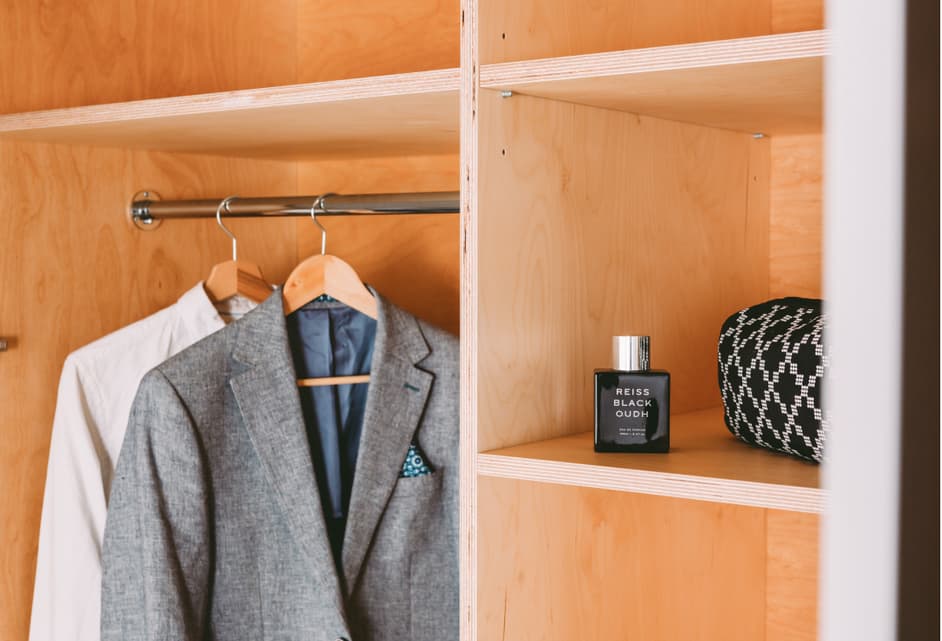 Cabinets
Shown in our signature birch plywood and finished with a water based lacquer. (Choose from a range of premium cabinetry materials)
Doors and drawers
Shown with machined handles and finished with a water based lacquer. (Choose from a wide range of premium finishing materials)

Details
The wardrobe pictured above comprises interior drawers, shelves and hangers. The doors are finished in Farrow and Ball's beautiful Pavilion Grey, and the shelves veneered blonde oak.

Dimensions
Height
210cm
Width
426cm
Depth
60cm
Leg Height
10cm
Bespoke Vanity Unit
Shown in birch plywood which is incredibly durable, and stands up admirably to a steamy shower.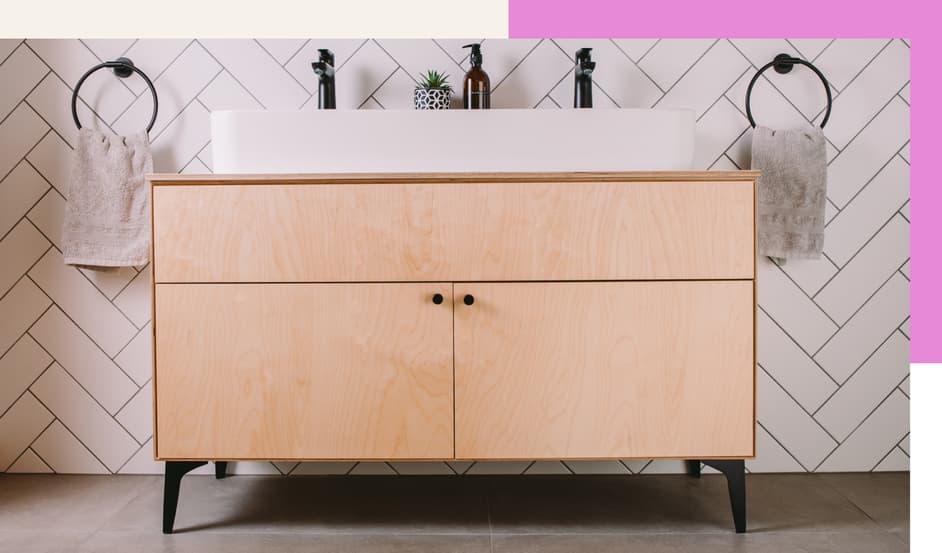 Mitred joints
Our signature mitred in-frame cabinetry.
Vanity handles
Choose your own handles or go with a sleek push to open look.
Sink
Customisable to your choice of sink.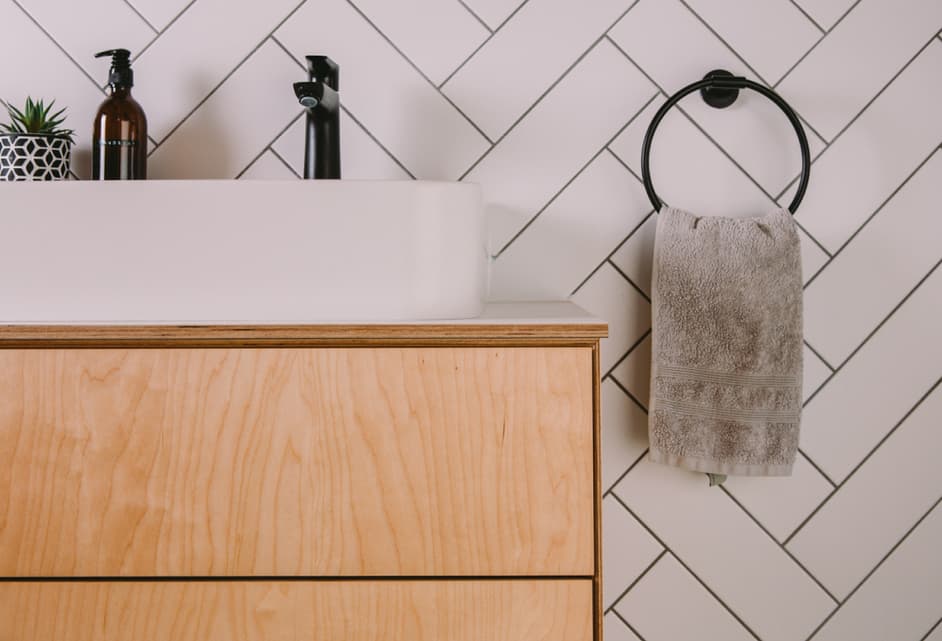 Cabinets
Craft style cabinets with elegant mitred joints.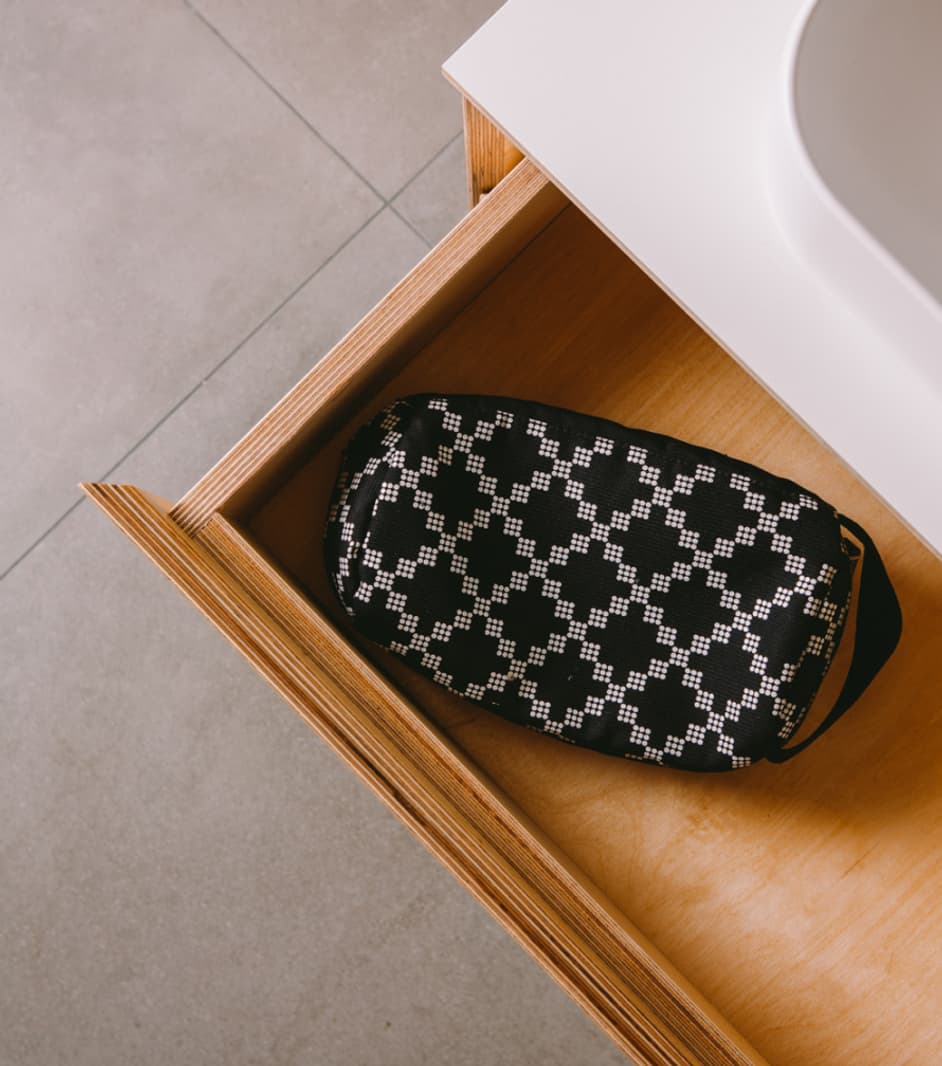 Doors and drawers
Push to reveal all your favourite pamper products.
Details
The bespoke vanity unit pictured above is finished in natural birch plywood with knurled anodised black aluminium handles and black powder coated feet.
Dimensions
Height
73cm
Width
120cm
Depth
51cm
Leg Height
15cm
Sideboards
Your Great Granny's tea set. Your decades old vinyl collection. We create sideboards for the things you treasure.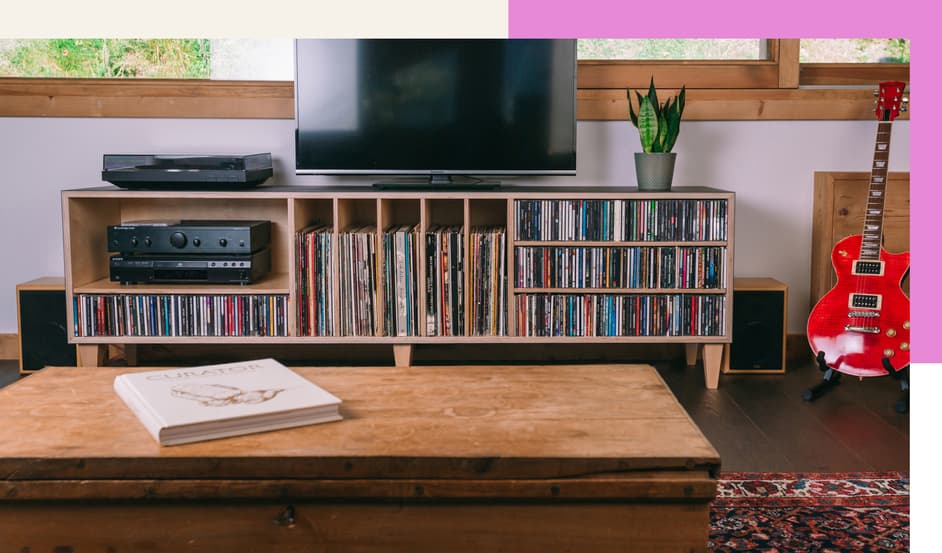 Media sideboard
Designed to fit your vinyl and cd collection.
Material
Finished in charcoal Forbo furniture linoleum.
Bespoke
Want a beautiful table to gather round at mealtimes? Or how about a lookout tower for your little ones? If you can imagine it, we can create it.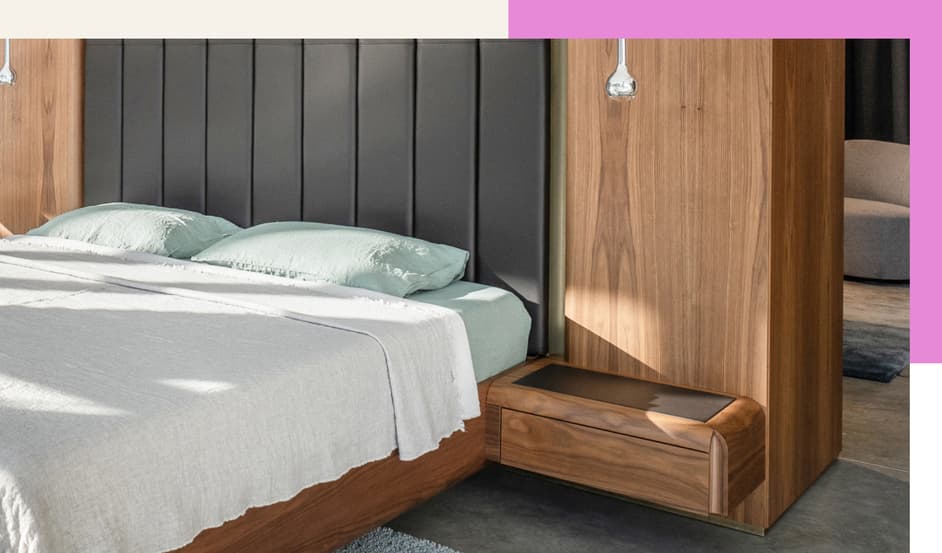 Light switch
Hidden light switch controlled with a single stroke.
Head board
Finished in walnut veneer and premium leather.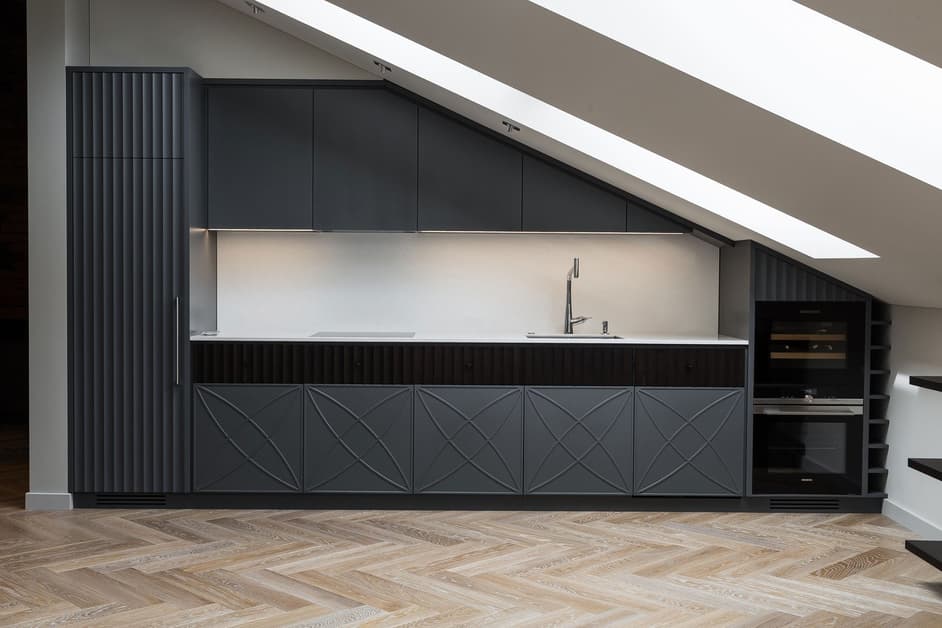 Cabinet fronts
Comprise a range of milled profiles creating a stunning textured look.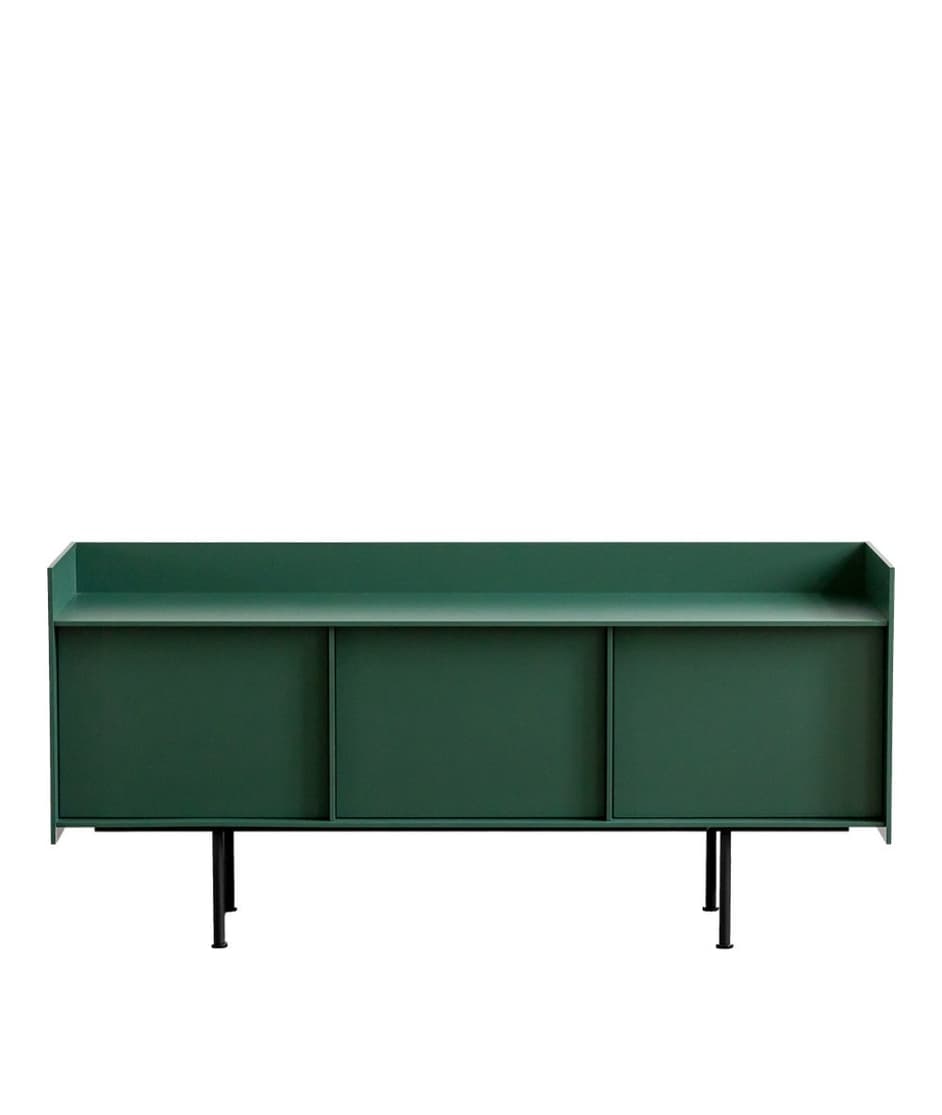 Sideboard
Elegant sideboard finished in Ash veneer and painted with pine green paint. Legs are powder coated metal.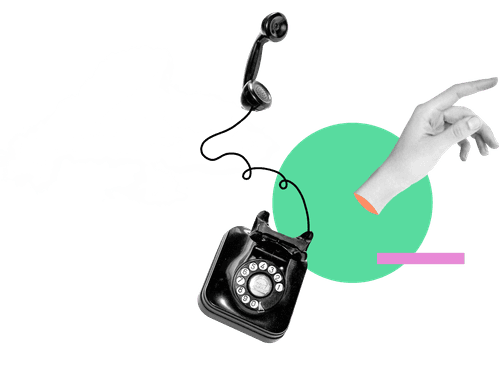 See something you like?
Want to speak to us about your furniture design? We're here to help so why not get in-touch. Email or call us on +33 (0) 650 98 72 76